Building a Just City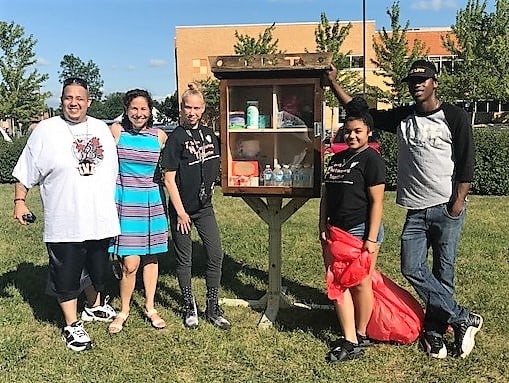 Saint Paul is an incredible place - but not everyone is sharing in the wealth. Too many of our residents struggle every day against the burdens of poverty, inequality and discrimination. Rebecca is a strong voice on the Council for progressive policies that will lift up all families. She co-sponsored Saint Paul's nation-leading Earned Sick and Safe Time ordinance and is working hard to raise the minimum wage. Rebecca authored a resolution requiring all new City buildings to install gender-neutral bathrooms and she is working with community partners and employers to make it easier for residents returning from incarceration to get a job.
Achievements
Gender-Neutral Bathrooms - In an effort to ensure that everyone feels comfortable at City Hall. Rebecca sponsored a resolution that commits the City to installing gender-neutral bathrooms in all new buildings and to redesigning existing bathrooms to be gender-neutral at the earliest opportunity. City Hall can and should lead the way on progressive initiatives like this one, and set an example for other public and private entities to follow.
Reentry Initiatives - All too often, men and women returning to St. Paul from incarceration are unable to succeed because they can't find employment. Despite Saint Paul's "ban the box" initiative, many employers are still wary of hiring people with criminal backgrounds. Rebecca is working with the City's Human Resources department to proactively seek out job candidates returning from incarceration through partnerships with service organizations. And, in partnership with the St. Paul Area Chamber of Commerce, Rebecca is working on an informational campaign to raise awareness among private employers of the benefits of employing returning citizens.
Earned Sick and Safe Time - Shortly after taking office in 2016, Rebecca cast one of her first votes to support the City's Earned Sick and Safe Time ordinance. The ordinance, one of the strongest in the country, ensures all Saint Paul employees paid time off to take care of themselves or a sick relative or to escape domestic violence.
$15 Minimum Wage - Rebecca has consistently championed a higher minimum wage that helps lift families out of poverty. She supported the City's $15 minimum wage ordinance and introduced amendments that ensured a faster implementation for the largest businesses and strong enforcement and anti-retaliation measures.
Humane Pet Stores - St. Paul is a caring and humane community and its ordinances should reflect those values. Rebecca introduced a Humane Pet Store Ordinance that cuts off revenue to puppy and kitten mills that treat animals with cruelty and neglect by banning the sale of dogs and cats in Saint Paul pet shops. Under the ordinance, pet stores can still host adoption events to encourage consumers to adopt animals from rescue and shelter organizations. Saint Paul is the third and largest city in Minnesota to adopt this ordinance.